Next Activity: National Tree Day Sunday 28 July 2019
Meet at Quinton Rd.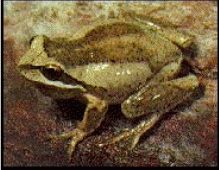 Southern Brown (Ewings') Tree Frog - Litoria ewingi.
(Printed courtesy of
Frogs of Victoria.
Visit the
Amphibian Research Centre
and
Melbourne Water's
frog census
pages)
This is the Home Page of the Friends of Back Creek, a group which has formed to look after Back Creek in the City of Boroondara in Melbourne, Victoria, Australia. You can see our constitution, statement of purpose, recent newsletters and AGM & committee minutes.
Contact Us
You can contact us by emailing Robert Brierley, or writing to him at 3 Nicholsdale Rd, CAMBERWELL 3124.
Backyard Biodiversity Video
The City of Boroondara's Backyard Biodiversity Project has developed a great video in which Back Creek is prominent as an example of a biodiversity corridor.
Welcome to Friends of Back Creek South
A Friends group has been set up to look after the next open portion of the creek between Denman Ave and Toorak Road. (Web Page)
Thanks to Bunnings
The Friends of Back Creek is grateful to Bunnings new store in Burwood Rd, Hawthorn for its assistance.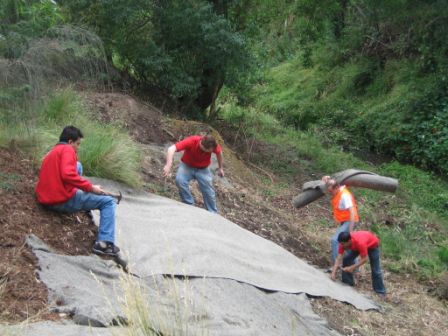 Nirav Joshi, Hitesh Karangiya and Rob Scott from Bunnings, along with
Friends President Robert Brierley laying jute matting on the creek bank
in preparation for planting.
Pictures
The flood in Back Creek during the 75mm storm on 25 February 2006.
The Quinton Road South Re-vegetation Project
Master Plan
Barry Gallagher has prepared a detailed Master plan of the planting of trees, grass, etc. at the Cornell Street end of the creek reserve. Click on the small image below to see a larger version.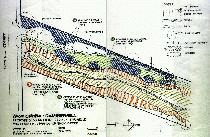 Membership Forms
If you want to join the Friends, please complete a Membership Form (Adobe PDF) (MS Word) and return it to Robert Brierley at the address below.
Where is Back Creek?
Back Creek is one of the tributaries of Gardiners Creek; one of the major tributaries of the the Yarra River. Back Creek rises as a spring on the slopes of the hill at the corner of Canterbury Rd and Elgar Rd in Box Hill (there is a Melbourne Water tower and reservoir on this hill.) It now runs in underground pipes as far as Union Rd, after which it is open until Cornell St. It runs in the open again from Camberwell Rd to a short distance South of Toorak Rd, and finally emerges at Dawson St, Glen Iris, about 500m before it joins Gardiners Creek.
The Friends of Back Creek are particularly concerned with the section of the Creek between Riversdale Rd and Cornell St. (Melways Map 60 G2)
| | |
| --- | --- |
| | Click on the small map to get a larger map of Camberwell/Surrey Hills. |
North of Riversdale Rd the creek runs through South Surrey Park, which is undergoing extensive clearing and planting. There is a large and active Friends of South Surrey Park group.
What is Back Creek Like Now?
Between Riversdale Rd and Cornell St the creek runs in a quite deep gully it has cut through the topsoil and clay down to the bedrock. The vegetation is now almost all exotic. Apart from a few eucalypts near Cornell St, where the bank widens, the trees are almost all willows. The undergrowth is almost all made up of succulent weeds: devil-to-grow, ivy, onion-weed, etc. Many of the willows have fallen and regrown. The creek-bed itself is heavily choked with willow roots, which has leads to a number of stagnant pools and piles of trapped litter.
One of the Friends, Jim Breen, has taken some photographs in mid-2000 of the conditions in Back Creek, and prepared a Tour Of Back Creek page.
Friends of Back Creek Charter
Develop a flora and fauna inventory for the area.

Gather information about possible management strategies.

Establish a short and long-term management plan for the area.

Work in conjunction with the local Council, Parks Victoria, Greening Australia and other organizations that provide support for community initiatives and Friends groups.

Keep members informed about all activity via a newsletter and website

Develop community awareness of the need to care for the area.
Useful Links
Contact Person:
Robert Brierley
3 Nicholsdale Rd
Camberwell 3124
0400 077 439
Webmaster